Travel Information

The workshop will be held at the Hokkaido University Museum in Sapporo City, Hokkaido, Japan.
The museum is located in walking distance from the Sapporo Station (the largest station in Hokkaido). You can find many hotels in Sappro City.
Transportation
Finding Your Way from the JR Sapporo Railway Station
The museum is located in the Hokkaido University Sapporo campus about 10 minutes on foot from the northern entrance of the JR Sapporo Railway Station.
You can enter the main gate of the Hokkaido University and find the statue of Dr. William S. Clark. Then, you can follow the avenue of the Poplars with the Hokkaido University Museum (see following map).
Motor vehicles are not allowed on Hokkaido University grounds, so you will need to come by bus, subway, or other public transportation.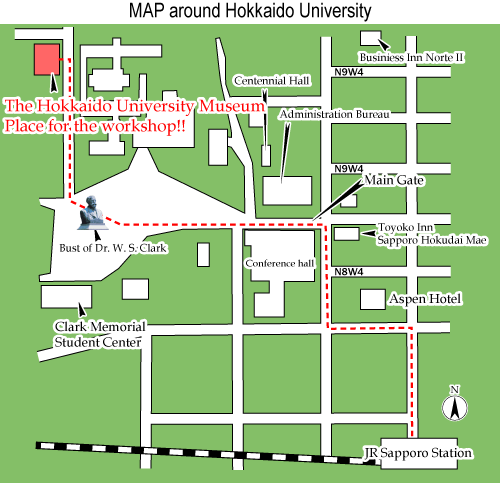 From New Chitose Airport (Shin Chitose Airport)
The bset way to get JR Sapporo Railway Station from the New Chitose Airpot is to board JR Airport Express Train. It takes only 30 minuites from airport to the Sapporo Station.
For more detailed explanation you may visit the following website.
https://www.sapporostation.com/transportation-from-new-chitose-airport-to-sapporo/
Accommodation
You can find many hotels in Sapporo City. Search through bokking.com, hotels.com or other websites. If you can't find any, please contact us.